TED™ Hair Restoration in Annandale, VA
What Is TED Hair Restoration?
Factors, such as imbalanced hormones and diet, may cause premature hair loss at almost any stage for females and males. Androgenetic alopecia, also referred to as male and female pattern hair loss, is said to be a very frequent form of baldness, resulting in receding, patchy hair that, at some point, can go away completely and wreak havoc on a person's confidence. At Beyond Esthetics, we provide TED by Alma and the TED+ Hair Care Formula as an innovative solution to stimulate hair renewal. Ultrasound energy and air pressure from this high-end system drive the specialized TED+ Hair Care Formula deeper into your follicles to encourage blood flow while providing essential nutrients to lengthen, thicken, and retain the hair. To discover more about how you could benefit from this revolutionary solution, book an appointment with Dr. Leonel Perez at our practice in Annandale, VA.
What to Expect After TED Hair Restoration
Unlike other hair restoration treatments and procedures, TED hair restoration involves virtually no side effects or downtime. In fact, most patients are able to return to work and other activities immediately after treatment. Following your TED hair treatment, our knowledgeable team will discuss aftercare instructions with you, which may include avoiding certain activities for about 24 hours, like washing your hair, using hair products, and coloring or treating your hair.
Who Is a Good Candidate for TED Hair Restoration?
If you're looking to rejuvenate your locks and restore your confidence, TED hair restoration at Beyond Aesthetics could be the perfect solution for you. Our Annandale, VA team specializes in innovative hair restoration techniques designed to give you natural-looking results. Ideal candidates for TED restoration may have some or all of the following qualifications:
Mild to Moderate Hair Loss: This treatment is most effective for those who are experiencing early stages of thinning or hair loss.

Good Scalp Health: Candidates should have a healthy scalp, free from conditions like psoriasis or severe dandruff.

Realistic Expectations: It's essential to understand the procedure and what it can realistically achieve for you.

Non-smoker: Smoking can hinder the healing process and impact the effectiveness of the treatment.
What Are the Benefits of TED Hair Restoration?
Hair loss or thinning is a common problem for many men and women in Annandale, VA and the surrounding areas. But it can be treated and potentially reversed effectively and noninvasively with TED by Alma and the TED+ Hair Care Formula. Benefits of TED treatments with Dr. Perez and the Beyond Esthetics team include:
Painless, noninvasive treatments with no needles or anesthesia
Strengthening hair follicles
Halting or reversing hair loss
Increasing hair thickness
No downtime or recovery period
Encouraging blood flow on the scalp and to the follicles
How Does Hair Restoration Work?
While most hair restoration techniques utilize lasers or needles in order to create channels in the scalp, Alma TED instead uses acoustic sound waves and air pressure. This is effective and noninvasive, creating a much more comfortable experience for the patient. These sound waves create gaseous bubbles under the skin, which expand and allow medications to be better absorbed. Simultaneously, the air pressure pushes the medications even further into the skin. This entire process is performed using a simple handpiece that will be repeatedly glided over the scalp to stimulate hair growth. This treatment regenerates a healthy scalp environment by inducing vascularization around the hair follicles and improves blood flow to the scalp.
Typically, our patients require about three sessions until they've reached their goals. Most individuals say there is no pain during the hair restoration procedure. The innovative technology involves the use of sound waves and the force of air to help supply the specialized hair product beneath the skin, which is not expected to be painful.
Before & After Photos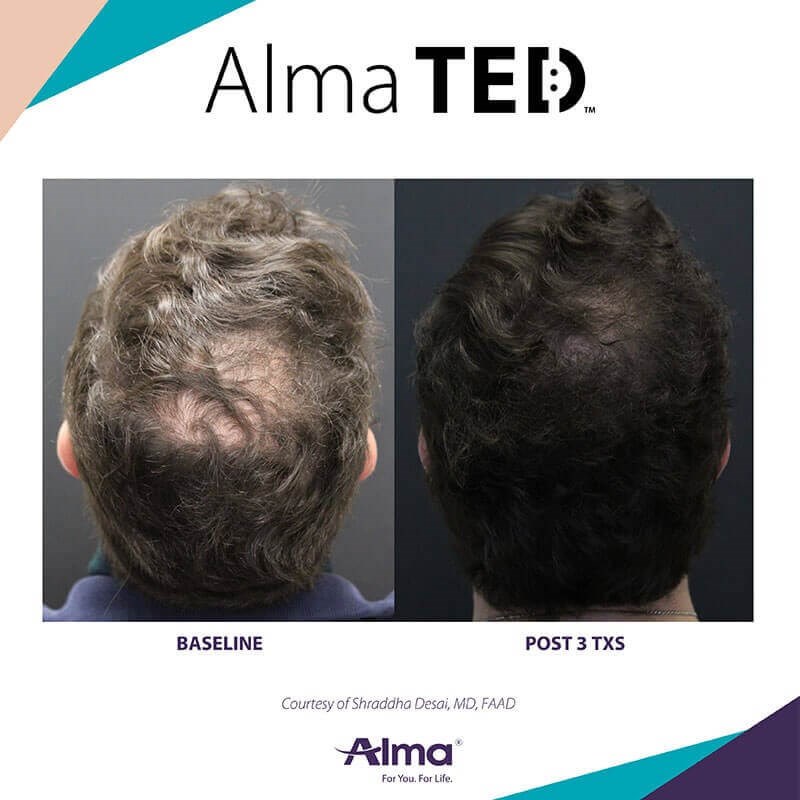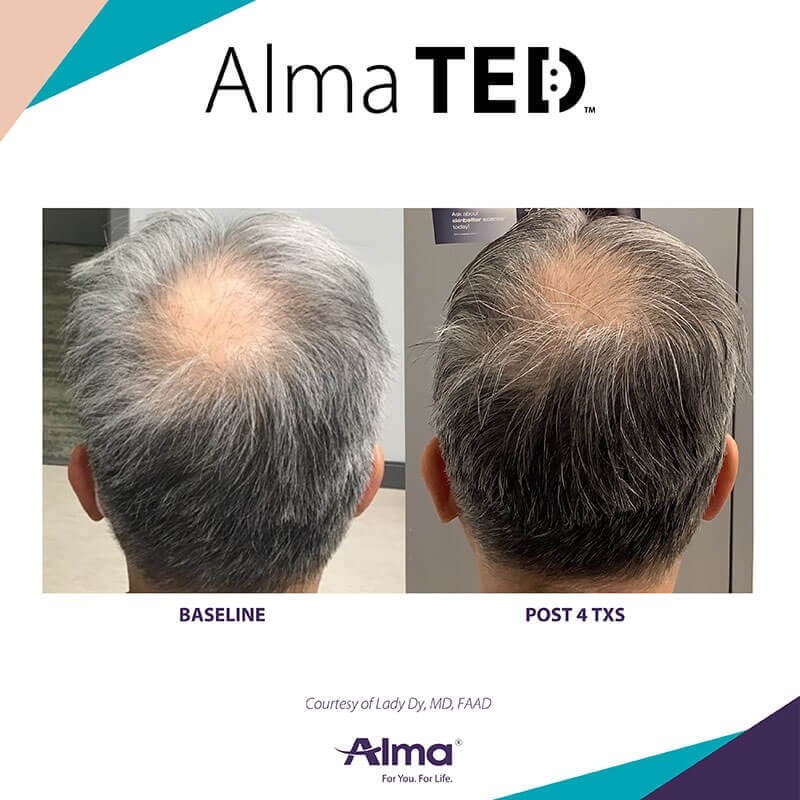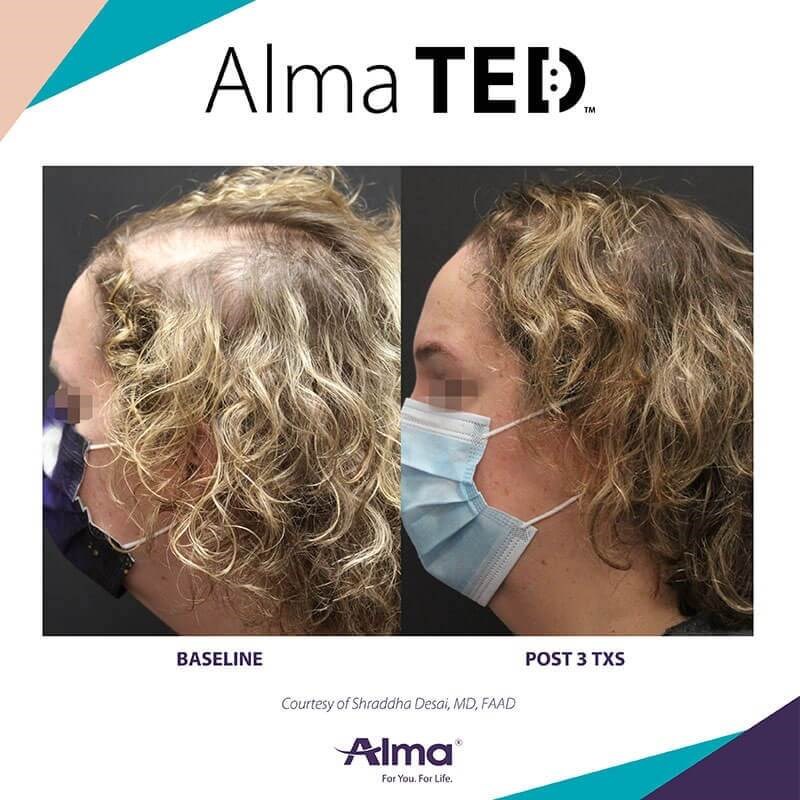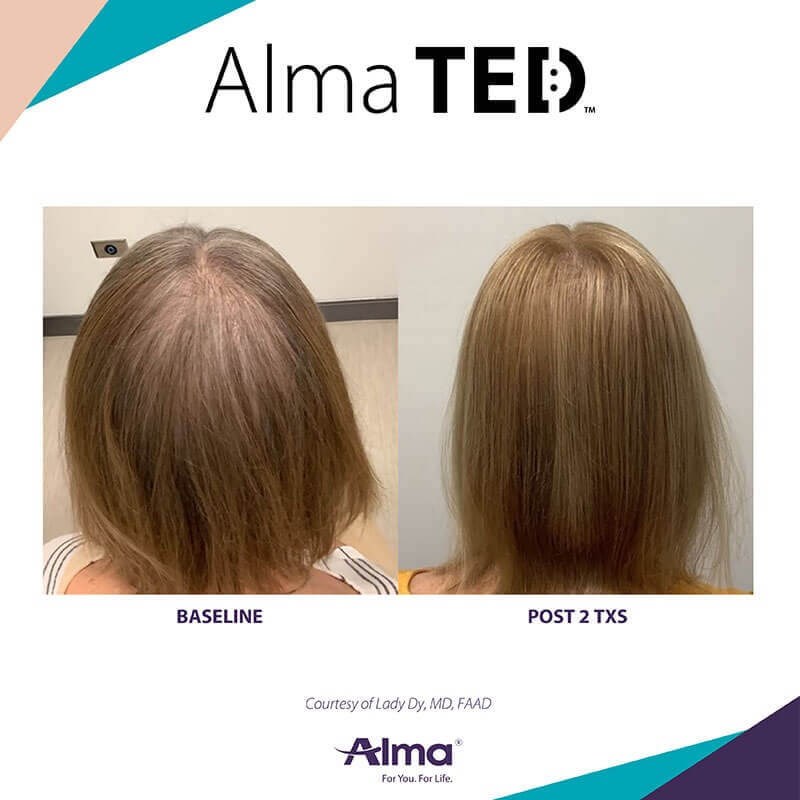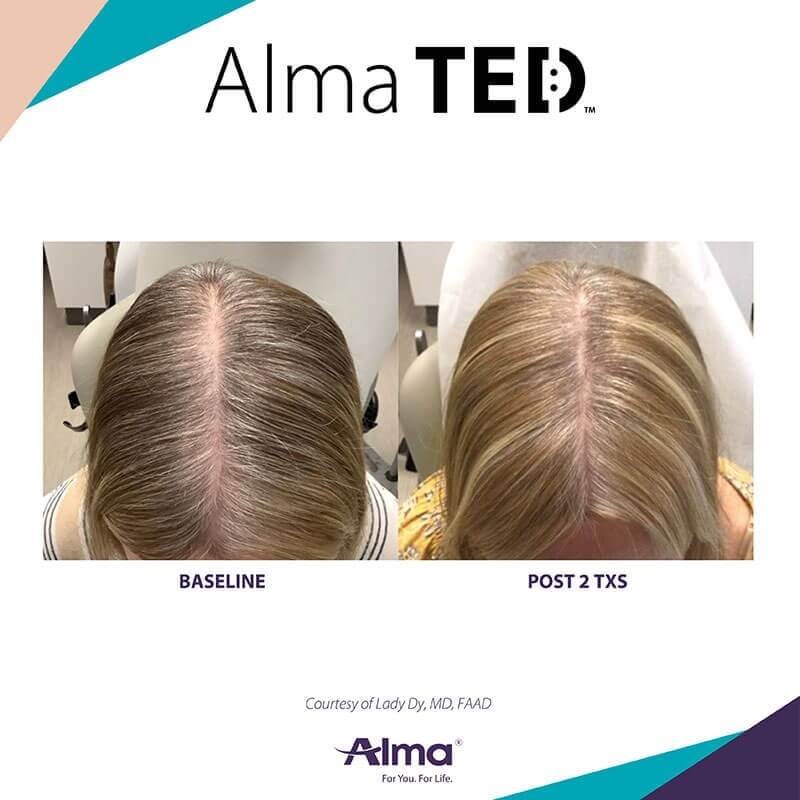 Beyond Esthetics Reviews
This is one of the most professional medical offices I have been in. I came for my consultation and last minute had to bring my baby and they were so understanding, kind, and genuine! Looking forward to my procedure soon! Very happy to have found them and that they are so close to home!
Wonderful office and amazing staff very knowledgeable with all the different types of treatments and upgraded technology with all their lasers. I had a great experience with my cosmetic treatment and highly recommend Dr. Leo. Can't wait to get my next treatment, I love this place!!
I've been getting 'tox injections at Beyond Esthetics for several months now, and I couldn't be happier with the results. The staff is friendly and professional, and the injections are painless. Highly recommend!
I had a real "treat yourself" moment – I didn't want a facelift, so we're doing a combination therapy! Laser skin resurfacing, collagen contouring, a little IPL, and a combo of tox and filler. I started back in January and the results are giving me a decade back at least. The staff at Beyond Esthetics were incredibly knowledgeable and helpful during my initial consultation. They took the time to understand my concerns and recommended the perfect treatment for me. I'm so happy with the results!
I've struggled with hair loss for years, but the hair restoration treatment at Beyond Esthetics has been a game changer. My hair looks fuller and healthier than ever, and the staff was incredibly supportive throughout the process. Kam has become both my esthetician and therapist for life!
Get In Touch
Enjoy Enduring Hair Restoration
At Beyond Esthetics, we are pleased to provide this cutting-edge and efficient treatment to address thinning hair. Alma TED hair restoration doesn't involve needles. There's no discomfort or shedding. No surgery. No supplements or medications. No trauma to the scalp. While hair loss is very common, it can lead to stress or decreased self-confidence. If you are interested in a long-term hair restoration solution, you can schedule a consultation with our expert team in Annandale, VA to learn more.
Learn More About Beyond Esthetics
About Us
TED™ Hair Restoration FAQs
What is the price of TED hair restoration?

The price varies based on the number of appointments necessary for your objectives. When you have your initial appointment, we will learn about your needs and talk with you about your hair restoration desires prior to providing a custom-tailored treatment outline, which will include costs.
How many Alma TED sessions are necessary?

It is recommended to look for treatment as soon as hair thinning or hair loss is noticed. The amount of TED treatments will vary according to the condition and extent of the hair loss. Visible outcomes are typically attained following the first of three treatment sessions spaced over one month.
Is TED hair restoration painful?

Many people say there is very little pain during the hair restoration procedure. The innovative device harnesses the power of sound waves and pressurized air to help supply the specialized hair serum deep into your scalp, which should not cause trauma or discomfort.